Rss
Our student leaders weren't going to let a global pandemic stop them from celebrating their achievements. And so the 2020 Virtual Excellence in Leadership awards were presented on Thursday, May 14, in the space where BCC currently conducts its activities: cyberspace.

"It is so nice to see so many of our student leaders here," said Student Life Specialist Dr. Yvonne Erazo. "These are annual awards that are offered to students who have been nominated and selected by students." The attendees assembled in front of laptops across New York gave a loud cross-city shout out.

The festivities began with a new honor: The BCC Broncos Best Student Leader of the Year Award, which went to Quiana Berry, current president of the Student Government Association and former Chair of the Inter-Organizational Council. "Thank you all for allowing me the opportunity to learn through leadership," Ms. Berry said enthusiastically.

Other award winners included:

Club Member of the Year: Sierra Robinson, ASEZ – Save The Earth from A to Z Club

Emerging Leaders Award:

Claude McCammon, President of the Video Gamers Club

Carmelo Quinones, Vice President of the Phi Theta Kappa Honor Society

Kelanny Estevez, Secretary, Future Teacher's Club

Noysvell Lopez, IOC Representative, Dominican Cultural Club

Ama Afful, Vice President, American Chemical Society Club

Raul Cobeo, President, Tutors' Alliance Club

Vishwanauth Persaud, IOC Representative, Spoken Word Club

Rising Bronco Award: Katherine Linares Sanchez, TheDream.US Scholar

Club Officer(s) of The Year:

Luis Alvarez, President, CUNY Coalition for Students with Disabilities

Kayla Smith, President, Dance Workshop

In addition to outstanding club members, awards were handed out to outstanding clubs:

Most Collaborative Club: Dance Workshop

Most Creative Club: Spoken Word

Most Significant Campus Impact: CUNY Coalition for Students with Disabilities

Outstanding Community Service: Phi Theta Kappa Honor Society

Outstanding New Club: ASEZ BCC – Save The Earth from A to Z

Most Outstanding Club of The Year: CUNY Coalition for Students with Disabilities

A memorable moment of the afternoon came with the presentation of a special Staff Award, given to those who went on leave and were so missed during their absence that their return was deemed award worthy. And so, this year's "BCC Return of the Mack" Award went to Mr. Clifford L. Marshall II, Program Manager of BCC's Male Empowerment Network. In that capacity, he named the newest inductees into the M.E.N. Student Leadership Academy: Tiffany Medina, Christian Davila, Christopher Devone, Estevan Rivera, Hayale Smith, Lennin Charalla-Quintanilla, Richard Rodriguez, and Vishwanauth Persuad.

"You guys are in a long line of students since 2008," noted Mr. Marshall. "We have close to 100 students who have been inducted into the Leadership Academy."

One group of awards was very much in keeping with the times: the BCC First Responders Awards, created by Quiana Berry to give special recognition to heroic service during the pandemic to BCC's Nursing, Medical Laboratory Technician and Radiological Technician students. Said Ms. Berry, "I want to thank you for being the definition of a true leaders."
Rss
Mayor Bill de Blasio took sweeping measures to contain late-night violence amid ongoing protests over George Floyd's death, extending New York City's curfew, closing most traffic below 96th Street and banning for-hire pickups for a period of time Tuesday night. Thousands still marched past curfew and likely will do so again Wednesday, which marks New York City's sixth day of...
Rss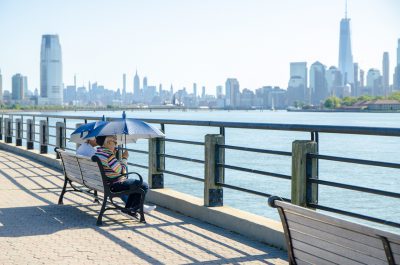 In urban areas worldwide, many deaths are recorded in the summer during prolonged high temperature and air pollution exposures, particularly in regions with limited use or availability of air conditioning. To better understand how modified ambient temperature and air pollution due to climate change will affect the health of residents in densely populated urban areas, CUNY SPH Professor Ilias Kavouras and colleagues from the Hunter-Bellevue School of Nursing and Medgar Evers College will explore the effects of extreme hot weather — along with air pollution and indoor environments — on the cardiovascular and pulmonary health of elderly New York City residents with chronic respiratory diseases.
The team will start with a small pilot group of volunteers in an eight-week study this summer. Volunteers will be given wearable sensors to assess their exposure to heat and other urban environmental factors and correlate it to their heart and lung function.
"We are currently working on potential adjustments to the protocol to account for any social distancing circumstances which may be in place at the time," Kavouras added.
Kavouras and team hope to expand the research, with funding from the National Institutes of Health, to a long-term longitudinal study of the effects of extreme weather and disaster events on aging populations.
Rss
Police officers in one of New Jersey's largest and most violent cities were praised on social media for marching alongside protesters in rallies held this weekend over George Floyd's death. Camden County Police Chief Joe Wysocki, who has been working in the city for decades, joined the front line of a march in Camden on Saturday afternoon, sporting his uniform,...
Rss
"I was heartened to learn that criminal charges have been filed against the former Minneapolis police officer implicated in the death of George Floyd in an incident that has sparked outrage and angry protest across the nation. This week, we have looked halfway across the country at images that are all too painfully familiar. The death of an African American man, at the knee of a white police officer, is a tragic, unacceptable, and infuriating manifestation of the racial injustice that continues to plague our country. Yes, we have seen this before: An assault that defies reason, a death that cannot be accepted, an aftermath that leaves so many of us angry, frustrated and wondering if anything will ever change.
"I do believe, however, that we must do all we can to resist and overcome such despair — understandable as it is — and redouble our commitment to finding ways forward. As the leader of a University driven by the ideals of inclusion and equity, I believe that institutions of higher education can be engines of change. Through our teaching, our research and our advocacy, we can drive reforms and change as we continue to foster social justice and diversity in the culture at large. In the end, it comes down to human dignity and respect."
###
Rss
President Donald Trump says he will postpone a meeting of Group of 7 nations until fall
Rss
Borough of Manhattan Community College (BMCC/CUNY) celebrated the Class of 2020 with a virtual speaker program on May 29.
BMCC, like countless other colleges and universities across nation, was forced to move to a distance-learning model in March 2020 because of the COVID-19 crisis. While a huge commencement gathering was not an option, just under 5,000 BMCC graduates who completed their studies in the Summer 2019, Fall 2019, Winter 2020 and Spring 2020 semesters were conferred Associate of Art, Associate of Science and Associate of Applied Science degrees from over 50 academic programs.
A video of the virtual celebration honoring their achievement opens with an original jazz improvisation of "The Star-Spangled Bangle," performed by saxophonist Brent Birckhead and BMCC Interim President Karrin Wilks welcomes the graduates, audience and honored guests.
"Graduates, today is a momentous milestone in each of your lives, a testament to your intelligence, hard work and your commitment to your own success and a better future, a commitment we share," said Wilks. "Your achievement is even more remarkable, given that in the last few months, we have endured unimaginable changes to how we live and how we learn. Your resilience and your staying true to your dreams is truly inspirational. Today is a time to reflect on your educational journey — how far you have come, and how far you will go."
Wilks said BMCC students bring a rich diversity of experience and knowledge to the college community. "You come to us from around the world. Many are the first in your families to earn a college degree."
While earning their degrees, Wilks says, the 2020 graduates had served as tutors and completed internships in hospitals, corporations, theaters and schools all over New York City.
"You benefited from those experiences but you also enriched the lives of others through your good work and passion to make a difference," she says. "Graduates you have demonstrated that you have the potential and promise to make the world a better place. Congratulations BMCC graduates, the Class of 2020! You started here and you have earned your degrees to go anywhere. I wish you health, great happiness and continued success."
CUNY Chancellor Félix V. Matos Rodríguez speaks next and extends a warm congratulations to "the very special, resilient and persevering class of 2020."
"Like all of you, I wish we could all be celebrating your wonderful achievement together, in person, in a grand setting with all the pomp and circumstance that I know you and your families have looked forward to," Rodriguez says.
While the celebration is virtual, he says, the milestone it signifies is very real.
"Even without a procession in caps and gowns, nothing can diminish the power of this moment in your lives, and nothing should dampen the pride you feel in having gotten here. I am incredibly proud of you, and despite the uncertain times ahead, I am as optimistic and excited as ever about the futures you will ultimately create for yourselves."
The next speaker, BMCC Vice President for Student Affairs Marva Craig, says that BMCC graduates had marked this day on their calendars for some time now.
"It was not penciled in or written with erasable ink — it was written with a permanent marker," she said. "The alarm on your phone was set to go off, and today it is realized … Congratulations, Class of 2020!"
In a more solemn moment, Craig acknowledged that some graduates' family members and friends had also placed this date on their calendars, and "unfortunately, they are no longer here with us, but we know the support they have given you will forever live in your memory."
In closing, Craig remarks that "The coronavirus pandemic will come and go, but you will, for all time, be a graduate from BMCC. This will never be erased from history … In the words that have bonded us over the semesters, 'Start here. Go anywhere.'"
The next speaker, BMCC Student Government Association President Cheng Chen, congratulates her fellow graduates for having accomplished a milestone in spite of the global health crisis.
"We all worked hard to get to this day and we will never forget the toilet paper fight, the endless Zoom meetings, the salute to healthcare workers and the ones we lost in the battle with COVID 19," she said. "We have emerged from it even stronger."
Chen reminds the students of the tremendous courage and creativity they demonstrated in a semester that abruptly switched to distance learning because of a grave global pandemic.
"You have shown that you can get things done, no matter how challenging the situation can be," she says, adding on a more personal note, "I will miss the campus, the library, the learning resource center, the gym, the swimming pool and the tuna sandwich I bought from the cafeteria each day. But mostly, I will miss the warm greetings and hugs classmates and friends."
Chen closes her remarks by thanking BMCC faculty and staff for working hard to help students continue learning during the Spring 2020 semester.
"Consider this a special spring," Chen says to her fellow graduates. "I hope you have found a unique seed. Sow it and look forward to the day it blooms. I'm sure today will be the only the first of many proud successful moments for you."
Next in the virtual event, Acting Provost and Senior Vice President Erwin Wong introduces Valedictorian Ana Maldonado, a Video Arts and Technology graduate who moved to New York from Colombia and maintained a 4.0 GPA while working at the 9/11 Museum, participating in groups including Phi Theta Kappa and the BMCC Learning Academy and completing six short films.
"I like documentaries," Maldonado says. "Every time I come up with an idea for a film, I think about the impact that idea can have on the world. I hope to raise environmental or social justice awareness. BMCC has given me a reason to fight for my goals and to push myself to the limit."
Having grown up in Colombia, Maldonado says, her first focus in the United States was learning English as she worked in factories and as a cashier in restaurants in New York City.
Then, she says, BMCC entered her life. "I have met amazing people, from students to the faculty. They have pushed me to dream high and to pursue my passion and believe in myself. I have also learned about helping others. I started my video arts major just thinking I just wanted to  be an editor. I have finished my journey with the confidence to know that I will help this world through film."
Referring to her fellow graduating class members, Maldonado closes by saying, "I believe that we are the change. Like my parents always taught me, 'It doesn't matter what you decide to do as long as you have dedication and love for it.' Congratulations, BMCC 2020 graduates! The world needs you, go out and make your mark on it."
The next part of the ceremony is announced by VP Wong.
"We now come to the happiest part of the celebration, the conferring of degrees," he says. "Interim President Wilks, on behalf of the faculty of Borough of Manhattan Community College of The City University of New York, it is my honor to present to you the students who have met all the requirements for the associate in arts, the associate in science and the associate in applied Science. Congratulations to BMCC's graduating class of 2020!"
The graduates' names, organized by final semester and major, scroll down the screen, and can be viewed at any time on the BMCC 2020 Graduation website.
Next up, special guest speaker New York Senator Chuck Schumer tells the graduates, "When the worst is over, we'll need your help to rebuild our country even stronger than it was before. You are our future leaders and we have faith in you. Our society will overcome this pandemic, and so will you. Good luck, congratulations and Godspeed."
The final guest speaker, New York Lt. Governor Kathy Hochul, congratulates the graduating class and says, "This wasn't the speech I had originally planned to deliver — just like it's not the sort of graduation ceremony you had expected to attend, just a few short months ago. As you have learned already, the ability to adapt is a survival technique that each of you have had to perfect. You are now entering into a world that has been radically altered."
What will strengthen the graduates as they enter that world, she says, is that each of them is now bonded with other members of the Class of 2020, and share a moment of history that will define a generation.
Closing out the virtual celebration, Interim President Wilks again congratulates the graduates and confers their degrees.
She encourages the graduates to join the BMCC alumni association. "You will always be part of the BMCC family, and we will always be proud of you," she says.
The video ends with a montage of BMCC faculty and staff simulating a time-honored commencement tradition, moving the tassel on their academic caps from the left side to the right side, as graduates do to indicate they have now received their degrees.
Visit the BMCC 2020 Graduation Website  to view graduates' names and photos, and sign the student and family guest book.
View the BMCC Class of 2020 Virtual Celebration video.
Graduates are invited to join the BMCC Alumni Association.
Rss
The warmth and humidity around the tri-state could stir up some lightning and damaging winds for parts of the region on Friday. Occasional showers can be expected throughout the morning but thunderstorms will roll through, mainly in the north and west, by the afternoon. The severe weather threat also makes hail and tornado a possibility, Storm Team 4 says. Temperatures...
Rss
CUNY SPH is thrilled to announce that Dr. Natalia Kanem, Executive Director of the United Nations Population Fund (UNFPA), will be the keynote speaker for our 2020 virtual commencement on June 2.
Appointed by United Nations Secretary-General António Guterres in 2017, Dr. Kanem has more than 30 years of strategic leadership experience in the fields of preventive medicine, public and reproductive health, social justice and philanthropy. She started her research career in academia with the Johns Hopkins and Columbia University schools of medicine and public health.
Dr. Kanem joined UNFPA in 2014 as the Country Representative in the United Republic of Tanzania and in 2016 was named Deputy Executive Director in charge of programmes. Previously Dr. Kanem served as founding president of ELMA Philanthropies, Inc., a private funding institution focusing on Africa's children and youth, and as a senior associate of the Lloyd Best Institute of the West Indies.
As a Ford Foundation officer from 1992 to 2004, she helped pioneer work in women's reproductive health and human rights in West Africa, and subsequently served at the Foundation's headquarters in New York as Deputy Vice-President for its peace and social justice programmes in Africa, Asia, Eastern Europe, Latin America and North America.
Dr. Kanem holds a medical degree from Columbia University in New York, and a Master's degree in Public Health with specializations in epidemiology and preventive medicine from the University of Washington in Seattle. She is a magna cum laude graduate of Harvard University in history and science.
UNFPA is the United Nations sexual and reproductive health and rights agency, which aims to end the unmet need for contraception, end preventable deaths in pregnancy and childbirth, and end gender-based violence and harmful practices in all forms, including an end to child marriage and female genital mutilation.
Rss
Police are looking for a man who grabbed a 9-year-old girl's buttocks as she walked in Central Park in the middle of the afternoon earlier this week, authorities say. The girl was in the park, near East Drive and East 75th Street, around 3 p.m. Monday when cops say the man walked up and groped her. He then ran off....